VASA 2018 Symposium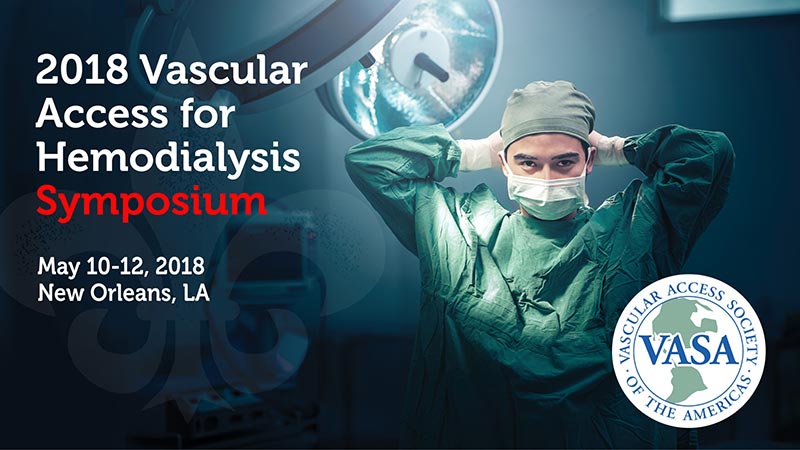 May 10 - 12, 2018
Roosevelt Hotel
New Orleans, Louisiana
The VASA Symposium is designed for all transplant, vascular and general surgeons, nephrologists, interventional radiologists, nurses, and allied health professionals who are interested in the management of vascular access. The 2018 Symposium will include:
State of the art lectures
Scientific abstract presentations
Vascular access nursing & allied health content
Information on new devices & technologies
Video presentations
Poster session
Learning Objectives
Upon completion of this activity, participants will be able to:
Discuss the factors predictive of fistula outcomes, optimal surgical & interventional techniques to create and/or maintain fistula
Explain current graft surgery techniques, materials, & devices
Describe current catheter technologies & best practices for catheter site care
Identify suitable patients for peritoneal dialysis; understanding of surgical and percutaneous methods for peritoneal dialysis catheter implantation
Outline systems and processes of care to coordinate & communicate between key providers involved in dialysis access care
Target Audience
Physicians, Medical Assistants/Technicians, Nurses, Nurse Practitioners, Physician Assistants, Vascular Surgery Fellows
Faculty Disclosure
All planners, speakers, authors and reviewers involved with content development for continuing education activities provided by the University of Kentucky are expected to disclose any real or perceived conflict of interest related to the content of the activity. Detailed disclosures will be included in participant materials or given prior to the start of the activity.
THURSDAY, MAY 10, 2018 — ALLIED HEALTH PRE-CONFERENCE WORKSHOP

08:00 AM - 08:30 AM

Introduction

Speaker: Michele Inglese, MSN, RN

08:30 AM - 08:40 AM

Vascular Access Anatomy and Access Circuit

Speaker: John Lucas III, MD, FACS

08:40 AM - 08:55 AM

Vessel Mapping: What Are Key Elements, How Are They Interpreted and Findings Shared with the Dialysis Access Care Team

Speaker: John Lucas III, MD, FACS

08:55 AM - 09:45 AM

Name That Access

Speakers: Deborah Brouwer-Maier, RN, CNN, FMC; Janet Holland, RN, CNN; Forest Rawls, Jr., CCHT-A, FNKF; Nancy Foss, CNP; Michelle Carver, BSN, RN; Judy Geissler, DNP, APNP, FNP-BC, CNN; John Lucas III, MD, FACS; Rebecca McGlawn, RN

09:45 AM - 10:00 AM

Break

10:00 AM - 10:45 AM

One Minute Check: Novice to Expert Level for Health Care Professionals (AVF/AVG/CVC)

Speaker: Nancy Foss, CNP

10:45 AM - 11:20 AM

Demonstration: How to Teach the One Minute Check to a Patient (role play) and Demonstration: How to Use and Teach the Use of the Weekly AVF Maturing or AVG Healing Tools with Dialysis Staff and Patients

Speakers: Deborah Brouwer-Maier, RN, CNN, FMC; Janet Holland, RN, CNN; Forest Rawls, Jr., CCHT-A, FNKF; Nancy Foss, CNP; Michelle Carver, BSN, RN; Judy Geissler, DNP, APNP, FNP-BC, CNN; Michelle Inglese, MSN, RN; John Lucas III, MD, FACS; Rebecca McGlawn, RN

11:20 AM - 11:25 AM

Review the Sleeves-Up Protocol Used for Any Patient with Lower Loop Graft to Identify Potential AVF When the AVG is Failing

Speaker: Janet Holland, RN, CNN

11:25 AM - 12:00 PM

PD Catheter 101: The Good Catheter!

Speaker: John Lucas III, MD, FACS

12:00 PM - 12:45 PM

Lunch on your own

12:45 PM - 01:00 PM

Brief Overview of Access Surveillance

Speaker: Deborah Brouwer-Maier, RN, CNN, FMC

01:00 PM - 01:30 PM

ESRD Network- QIP process

Speaker: Linda Duval, BSN, RN, ESRD Network 13

01:30 PM - 01:45 PM

Coordination of Care: Creating a Vascular Access Program

Speaker: Forest Rawls, Jr., CCHT-A, FNKF

01:45 PM - 02:00 PM

Surgical Perspective: Creating a VAC Role and Model of Practice

Speaker: Judy Geissler, DNP, Vascular Access Advanced Practice Provider

02:00 PM - 02:15 PM

Vascular Access Center Perspective

Speaker: Michelle Carver, BSN, RN

02:15 PM - 02:45 PM

Panel Discussion

Speaker: All Faculty

02:45 PM - 03:00 PM

Tools and Educational Material Sharing

Speaker: Janet Holland, RN, CNN

03:00 PM - 03:30 PM

Access Emergencies: Are You and Your Patients Prepared?

Speaker: John Lucas III, MD, FACS

03:30 PM - 04:00 PM

Open Forum: What Do You Want to See Next?

Speakers: Deborah Brouwer-Maier, RN, CNN, FMC; Janet Holland, RN, CNN; Forest Rawls, Jr., CCHT-A, FNKF; Nancy Foss, CNP; Michelle Carver, BSN, RN; Judy Geissler, DNP; John Lucas III, MD, FACS

05:30 PM - 07:30 PM

VASA Symposium Welcome Reception
FRIDAY, MAY 11, 2018

07:00 AM - 08:00 AM

Breakfast Symposium

Hosted by Artegraft

07:00 AM - 08:00 AM

Continental Breakfast with Exhibitors

08:00 AM - 08:10 AM

Welcome & Opening Remarks

Speakers: John Aruny, MD; Marc Glickman, MD

08:10 AM - 09:45 AM

 Professor Seiji Ohira International Session on Vascular Access

Moderators: John Aruny, MD; Takashi Sato, MD, PhD; Maurizio Gallieni, MD, FASN

Vascular Access in North America


Speaker: John Aruny, MD

Vascular Access in Latin America


Speaker: Carlos Hinojosa

Vascular Access in Japan


Speaker: Takashi Sato, MD, PhD

Vascular Access in the United Kingdom


Speaker: Nicholas Inston, MD

Vascular Access in Europe


Speaker: Maurizio Gallieni, MD, FASN

Panel Discussion

09:45 AM - 10:10 AM

 VASA Presidential Address in Honor of Jack Work, MD

Introduction


Speaker: Jeff Lawson, MD, PhD

VASA - Past, Present and Future


Speaker: Marc Glickman, MD

What Have We Learned in the Last 30 Years About AV Access?


Speaker: Mitch Henry, MD

10:10 AM - 10:30 AM

Morning Break

10:30 AM - 11:30 AM

Moderators: Haimanot Wasse, MD, MPH; Charles Keith Ozaki, MD

The Interventional Nephrology Team Approach to AV Access


Speaker: Haimanot Wasse, MD, MPH

Team Maturation of the Access and the Surgeon


Speaker: Charles Keith Ozaki, MD

Coordinating Teams from Access Creation to the Dialysis Center


Speaker: Janet Holland, RN, CNN

Team Approach to AV Access in Japan


Speaker: Akira Miyata, MD

Why Radiologists and Surgeons Need to Get Along


Speaker: Charles Kim, MD, FSIR

Panel Discussion

11:30 AM - 12:30 PM

Moderators: David Cull, MD; Charmaine Lok, MD, FRCPC, MSc

How I Keep Track of my 10,000 Fistulas


Speaker: John Lucas III, MD, FACS

SVS/VQI Data Collection for AV Access


Speaker: Karen Woo, MD

What Does a Rand Analysis in AV Access Teach Us?


Speaker: Janet Holland, RN, CNN

Team Approach to AV Access in Japan


Speaker: David Cull, MD

Update on the New KDOQI Guidelines


Speaker: Charmaine Lok, MD, FRCPC, MSc

Panel Discussion

12:30 AM - 01:30 PM

Lunch Symposium

Hosted by Bard

01:30 PM - 02:15 PM

Moderator: Jeff Lawson, MD, PhD

Creating Arteriovenous Fistulas for Children in Guatemala
Speakers: Jennings W1, Lou-Meda R2, Mallios A3, Méndez-Soveranis S4, Sosa-Tejada R5, Lucas III J6, Gradman W7
  1The University of Oklahoma College of Medicine, Tulsa, OK, USA
  2Fundación para el Niño Enfermo Renal, Guatemala City, Guatemala
  3Institut Mutualiste Montsouris, Paris, France
  4Hospital Roosevelt, Guatemala City, Guatemala
  5Mariano Galvez University Roosevelt Hospital, Guatemala City, Guatemala
  6Greenwood Leflore Hospital, Greenwood, MS, USA
  7Private practice, Beverly Hills, CA, USA
Left Ventricular Function Does Not Predict All-Cause Mortality in Incident Hemodialysis Patients
Speakers: Shintaku S1, Kawanishi H1, Moriishi M2, Tsuchiya S1
  1Tsuchiya General Hospital, Hiroshima, Japan
  2Nkajima Tsuchiya Clinic, Hiroshima, Japan
Comparison of the Axillary-Atrial Versus Axillary-iliac Arteriovenous Grafts for Hemodialysis
Speakers: Lopez G, Anaya-Ayala J, Lizola R, Garcia J, Cuen, C, Hinojosa C
Instituto Nacional de Ciencias Medicas y Nutrición Salvador Zubirán, Mexico City, Mexico
Saturday Multi-Disciplinary Hemodialysis Access Clinics to Enhance Patient Care
Speakers: Levitsky L, Ruske J, Hentschel D, Nguyen L, Shah S, Ozaki C
Brigham and Women's Hospital/Harvard Medical School, Boston, MA, USA
Intraoperative Pneumatic Tourniquet Use May Improve the Clinical Outcomes of Arteriovenous Fistula Creations
Speaker: Wang S
Arizona Kidney Disease and Hypertension Center, Phoenix, AZ, USA
Significance of a Protocol Based Arteriovenous Dialysis Access Site Maintenance Program
Speakers: Blessios G1, Diaz A2
  1Surgical Consulting PLLC, Buffalo, NY, USA
  2Catholic Health internal medicine resident, Buffalo, NY, USA
Hemodynamical Changes After Brachiobasilic Arteriovenousfistulas in Patients With and Without Previous Ipsilateralvascular Access
Speakers: Zonnebeld N, van Loon M, Tordoir J
Maastricht University Medical Center+, Maastricht, Netherlands
Simple Aneurysmorrhaphy Combined with a Novel Banding Technique Provides Good Short-Term Results
Speaker: Browne B
Balboa Institute of Transplantation, San Diego, CA, USA

02:15 PM - 03:30 PM

Moderators: Jeff Lawson, MD, PhD; Prabir Roy-Chaudhry, MD, PhD, FRCP (Edin)

Regulation, Safety and the US FDA


Speaker: Robert Lee, MD

How Big Companies Innovate New Products


Speaker: Mark Ohan, MD

Disrupting the Vascular Access Space with Start-Ups


Speaker: Nick Franano, MD

How CROs Can Help Accelerate the Approval of Drugs & Devices for Dialysis Patients


Speaker: Barbara Gillespie, MD, MMS, FASN

KHI Fostering Innovation in Vascular Access Care


Speaker: Prabir Roy-Chaudhry, MD, PhD, FRCP (Edin)

The LDO View of Innovation in Vascular Access and Dialysis Care


Speaker: Frank Maddux, MD

Panel Discussion

03:30 PM - 03:50 PM

Afternoon Break

03:50 PM - 05:00 PM

Moderators: Stephen Hohmann, MD, FACS; Karl Illig, MD

AV Graft Outflow Vein Stenosis


Speaker: Yael Vin, MD, MPH

The Mega-Overflow Fistula


Speaker: John Ross, MD

Steel


Speaker: Stephen Hohmann, MD, FACS

Central Vein Obstruction


Speaker: Charles Kim, MD, FSIR

Thoracic Inlet Pathology


Speaker: Karl Illig, MD


AV Access in the Failing Transplant Patient

Speaker: David Leeser, MD

Panel Discussion

05:00 PM - 05:30 PM

VASA General Meeting

06:30 PM - 08:30 PM

Reception & Abstract Poster Presentations
SATURDAY, MAY 12, 2018

07:00 AM - 08:00 AM

Breakfast Symposium

Hosted by Merit Medical

07:00 AM - 08:00 AM

Continental Breakfast with Exhibitors

08:00 AM - 09:00 AM

 Education in Vascular Access Care

Moderators: Ingemar Davidson, MD; Aris Urbanes, MD

Can You Really Teach Surgeons/Nephrologists About Vascular Access?


Speaker: Ingemar Davidson, MD

What Do Radiologists Need to Know About Vascular Access?


Speaker: Bart Dolmatch, MD

Teaching the Bigger AV Access Team


Speaker: Deborah Brouwer-Maier, RN, CNN, FMC

How Do You Train PAs/NPs to Be Access Providers


Speaker: Shawn Gage, MD

How do Interventional Nephrologists Learn Their Craft?


Speaker: Aris. Urbanes, MD

Panel Discussion

09:00 AM - 10:00 AM

Moderators: William Jennings, MD, FACS; Dirk Hentschel, MD

Fistulas in Challenging Patients - Central Vein Obstruction and Obesity


Speaker: William Jennings, MD, FACS

What's Up with Fistula Side Branch Ligation?


Speaker: Dirk Hentschel, MD

Percutaneous Fistulas - The NEAT Update


Speaker: Dheeraj Rajan, BSc, MD, FRCPC

Percutaneous Fistulas - The Ellipsys Trial


Speaker: Jeffery Hull, MD

Proteon - An Update on AV Fistula Maturation


Speaker: Charles Keith Ozaki, MD

Panel Discussion

10:00 AM - 10:20 AM

Morning Break

10:10 AM - 10:30 AM

Moderators: Marc Glickman, MD; David Kingsmore, MD

The Evolution of AV Graft Technology


Speaker: Marc Glickman, MD

How I Use Early Cannulation Grafts


Speaker: David Kingsmore, MD

Does Surface Coating or Flow Modification Alter AV Graft Function


Speaker: Stephen Hohmann, MD, FACS

Biologic Vascular Grafts


Speaker: Marc Glickmann, MD

HeROs and Hybrids


Speaker: Stephen Hohmann, MD, FACS

Panel Discussion

11:30 AM - 12:15 PM

Moderator: Deborah Brouwer-Maier RN, CNN, FMC

Endovascular Proximal Forearm Fistula: Early Experience in Birmingham, England
Inston N, Khawaja A, Tullett K, Dutton M, Jones R
Queen Elizabeth Hospitals Birmingham; University Hospitals Birmingham, Birmingham, United Kingdom
Variations in Catheter Rates are Poorly Explained by Differences in Patient Characteristics
Blanchard T, Usvyat L, Hymes J, Maddux F
Fresenius Medical Care North America, Waltham, MA, USA
Assessment of Cardiovascular Risk in Hemodialysis Patients
Zulkarnaev A, Vatazin A, Fominikh N, Strugailo E, Stepanov V, Yankovoy A
Moscow Regional Research and Clinical Institute, Moscow, Russian Federation
AFE System Rapidly Dilates Ovine Cephalic Veins Before AVF Surgery and Enhances AVF Maturation
Franano F1, Loree H2, Richardson J2, Groth D3, Larrabee R4, Szenay L4, Hutto B5, Dixon B6, Shenoy S
  1Flow Forward Medical, Inc., Fairway, KS, USA
  2Flow Forward Medical, Inc., Lowell, MA, USA
  3Dale Groth Preclinical Consulting, LLC, Forest Lake, MN, USA
  4Surpass, Inc., Osceola, WI, USA
  5CIRTEC Medical Corp., Los Gatos, CA, USA
  6University of Iowa Hospital and Clinics, Iowa City, IA, USA
  7Washington University in St. Louis School of Medicine, St. Louis, MO, USA
AVF Banding: Ambiguous Consequences
Zulkarnaev A, Vatazin A, Fominikh N, Strugailo E, Stepanov V, Yankovoy A
Moscow Regional Research and Clinical Institute, Moscow, Russian Federation
Is the Carotid Intima-Media Thickness (CIMT) ultrasound assessment a valuable parameter to predict outcomes during hemodialysis access creation?
Torres-Machorro A, Anaya-Ayala J, Garcia-Alva R, Cuen-Ojeda C, Lopez-Mendez A, Luna L, Lizola-Crespo R, Hinojosa, C
Instituto Nacional de Ciencias Médicas y Nutrición "Salvador Zubirán", Mexico City, Mexico
Dialysis nurse's perspective on potential patient benefits from an endovascular arteriovenous fistula (endoAVF)
Tullett K, Khawaja A, Jones R, Inston N
Queen Elizabeth Hospital Birmingham, Birmingham, United Kingdom

12:15 AM - 01:15 AM

Lunch Symposium

Hosted by W.L. Gore

01:15 PM - 01:45 PM

Moderator: Jeff Lawson, MD, PhD

The Real HFM Story...Do Fistulas Mature, When, If and How Often?


Speaker: Prabir Roy-Chaudhury, MD, PhD, FRCP (Edin)

Panel Discussion

01:45 PM - 03:00 PM

Moderators: Jeff Lawson, MD, PhD; Scott Trerotola, MD

The Laminate VasQ AVF Stent


Speaker: Mitch Henry, MD

Vascular Therapies


Speaker: Siriam Iyer, MD, FACC, FSCAI

DCB: PTA Version 2.0


Speaker: Dr. Scott Trerotola, MD

Tissue Engineered Blood Vessels for Dialysis Access


Speaker: Jeff Lawson, MD, PhD

Fist Assist


Speaker: Prabir Roy-Chaudhury, MD, PhD, FRCP (Edin)

The Chameleon Technique-New Approaches to Access Maintenance


Speaker: Jeffrey Hoggard, MD

Panel Discussion

03:00 PM - 03:20 PM

Afternoon Break

03:20 PM - 04:30 PM

 Clinical Cases: "Best Case Ever" or "I Would Never Do That Again!"

Moderators: Ted Saad, MD; John Aruny, MD; Stephen Hohmann, MD, FACS

The Best/Worst Case Ever


Speaker: John Ross, MD

The Best/Worst Case Ever


Speaker: Ted Saad, MD

The Best/Worst Case Ever


Speaker: John Aruny, MD

The Best/Worst Case Ever


Speaker: Bart Dolmatch, MD

The Best/Worst Case Ever


Speaker: Stephen Hohmann, MD, FACS

The Best/Worst Case Ever


Speaker: David Leeser, MD

Panel Discussion

04:30 PM - 04:45 PM

Closing Remarks